Now a New York Times® best seller!
Email us at:
info@thenormalbar.com
Book Club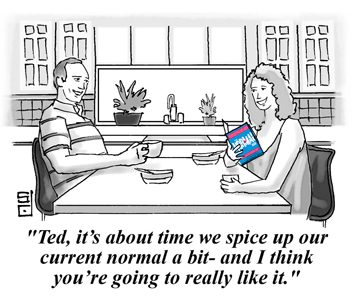 A Guide for Reading Groups
The Normal Bar offers plenty of intriguing talking points, but here are a few topics we thought your Reading Group would enjoy discussing.
Do you believe in love at first sight?
Do you believe friends make good life partners and lovers?
Do you think there is a sexual frequency "magic number" for happy couples?
What do you consider "normal" porn usage?
Were you surprised by the findings in the book about men's #1 sexual fantasy? Why?
Do you think sharing the same religious and/or political views really make or break a relationship?
Does money buy relationship happiness?
Do you believe it is OK to keep financial information from your partner?
What is the most fulfilling aspect of your relationship?
Do you believe that keeping secrets leads to a doomed relationship?
Continue the conversation on our Facebook page: facebook.com/TheNormalBar
Take The Normal Bar survey, or participate in a Partner Challenge.
To download a copy of the The Normal Bar Reading Group Guide, click here.