Now a New York Times® best seller!
Email us at:
info@thenormalbar.com
Blog
Married at First Sight vs. Love at First Sight
by Chrisanna Northrup
Married at First Sight is a new hit reality show on FYI TV, where people put their lives into the hands of four experts to find their perfect mate. That part sounds reasonable, but there is a catch…the soon to be matched couples don't know anything about one another or even see each other until they walk down the aisle to be married.
Did our Married at First Sight couples experience "Love at First Sight" moment? It appears Cortney and Jason may have experienced a little love at first sight when they first saw each other. According to our Normal Bar data (100,000 people surveyed around the world), 28% of women and 48% of men said they experienced love at first sight. Does experiencing love at first sight create a happier, longer lasting relationship? Surprisingly, no. Which is great news for Doug and Jamie who didn't seem to have the same experience as Cortney and Jason when they first met at the altar. (Jamie was so disappointed that she sank into a heap right after the ceremony - but seems to have warmed to Doug in subsequent episodes).
Even though The Normal Bar taught us that that experiencing love at first sight may not be the golden ticket to an extremely happy long lasting relationship, it is not unimportant. In fact, that immediate head over heels moment does impact a couple's sex life over the years. People who fell in love at first sight are more likely than lovers who fell in love gradually to claim satisfaction with their present sex life – eve after decades together! In fact, the group likely to report continuing sexual satisfaction were middle-aged men and women between the ages of 45-54. This might indicate that intense attraction early on in the relationship is especially important for baby boomers. Or perhaps, it means that love at first sight is a strong gauge of sexual interest that will stand the test of time. We'll have to be sure to check back in with Cortney and Jason to see if their immediate connection has predicted everything else that has happened in their marriage. Well, that is if they stay married, we won't know that until it is revealed in the last episode when the couples make the decision if they stay married or get divorced.
He Never Kisses Me Anymore
The last time I kissed passionately was last night. It wasn't the little sweet peck on the lips or quick kiss, it was a "real" kiss. The kind of kiss that's so passionate and loving that it made me feel like the most desirable person alive. One of the best parts about this kiss was that I was one the initiated it. Kissing passionately takes two and if both people in the relationship stop initiating the passionate kiss, it eventually goes away. When it's gone, it's sometimes hard to bring back.
Dr. Pepper Schwartz, Dr. Jim Witte, and myself conducted the largest study ever done on relationships (surveyed over 100,000 people around the world) and the data we uncovered on passionate kissing was fascinating. When we asked couples in the United States if they kissed passionately, they were quick to say yes, 70 percent said, "Of course we do!" But, when we asked how often they kissed, that was a different story.
50 Shades of Grey

: Fantasies Transforming Into a Couple's Reality
It's no longer a secret: Jamie Dornan and Dakota Johnson will be Christian Grey and Anastasia Steele in Universal's adaptation to 50 Shades of Grey. According to web sources, 50 Shades of Grey is the biggest selling book of all time! (Except the Bible, of course.)
This means that a worldwide cultural revolution has taken place -- and, of course, as authors of the New York Times best seller The Normal Bar: The Surprising Secrets of Happy Couples, we wanted to survey the impact.
In our latest survey, we found some intriguing evidence of social change caused by 50 Shades. First of all, the response is overwhelming positive from readers. Only 2.5 percent women and 6.4 percent men said that the 50 Shades of Grey book(s) had a negative impact to their relationship. Negative impact included everything from, "reading the book made me want more out of relationship and I don't know what to do" to "my partner didn't like the idea that I was even reading it."
Are Gay Couples the Same As Straight Couples?
"Normal" is a loaded word, we know. For the sake of this article, we're keeping the concept real simple - "normal" is what you're willing to accept and the regular pattern you stick with on an ongoing basis. "Normal" is the rules you create and regularly follow. For those who don't think there is a normal, think again.
Let's take a look at what's normal in a couple's relationship. We can all agree that love, affection, trust, sexual attraction and intimacy, and good communication are all "normal" goals in a couple's relationship. That was borne out by The Normal Bar Project, the most extensive study ever conducted on relationships. We surveyed nearly 100,000 people worldwide, asking 1,300 questions that explored every aspect of couplehood. The result was a much clearer vision of the various "norms" in relationships, and more important, what's normal in happy relationships.
Five surprising facts about what's "normal" in a happy couple's relationship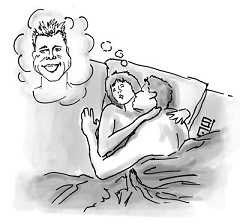 Curious about what very happy, even extremely happy people confess when asked intimate questions about their relationship? We have it!
The Normal Bar is the most in depth extensive study ever done on relationships; currently over 90,000 people have participated in the study. With millions of answers to every question you could imagine, the authors of The Normal Bar book, Chrisanna Northrup, Dr. Pepper Schwartz, and Dr. Jim Witte have all the answers.
Here are five fascinating findings on what happens behind doors-among even very happy and extremely happy couples!
5 Rules to Creating a Romantic Valentine's Day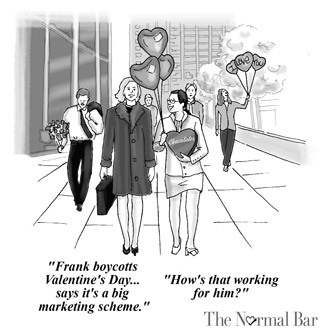 We conducted the most extensive in-depth relationship study in the world (surveying over 100,000 people) and we discovered that the world is even more romance starved than we thought! 64% men and 63% women in our study said they want more romance!
We think there are millions of couples all over the United States secretly and not so secretly craving more romance and while we can't order a quick long term fix, we can offer a short term one: Take advantage of Valentine's Day! It's the perfect day to play catch up and raise the romance quotient in your relationship.
We know however that men in particular break into a cold sweat, trying to figure out what will surprise or at least please their partner. So, taking several cues from our research, we are here to help.
The Perfect Gift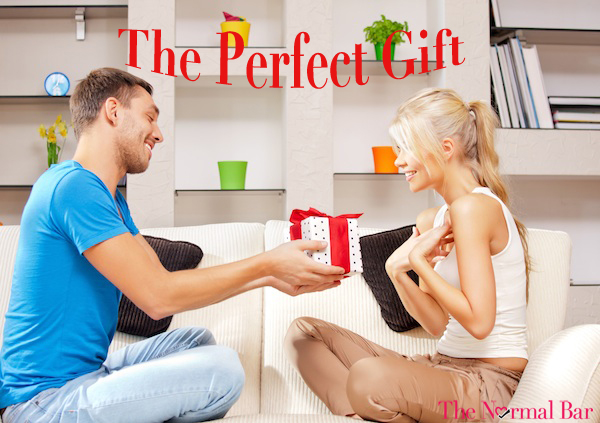 If you are stumbling around in stores or searching online for hours for the "perfect gift" for somebody special, you are not alone. Giving your partner a gift can be as simple as writing or quoting a poem, sending a love note or flowers or offering a relaxing massage. However, data from The Normal Bar (our book based on the most extensive study every done on relationships) shows us that giving nothing is definitely toxic and, over time, will actually harm your relationship.
Furthermore, we found a strong connection between gift-giving and sexual satisfaction. Of those who said they never receive romantic gifts of any kind, 64 percent of women and 88 percent of men were also dissatisfied with their sex lives. Perhaps the lack of gifts meant a lack of general romanticism in the relationship or just that extra caring touch that makes your partner want to embrace you, but the correlation between gift giving and eroticism in the relationship is definitely something to keep in mind as you are finishing up your holiday shopping.
The Normal Bar

's Couples Book Club

The Normal Bar is launching its first couple's book club! We are giving away 20 books, to 20 couples in the month of March. We'll be bringing these 20 couples together via the internet, and other couples into the club to share ideas and spark up interesting conversation from The Normal Bar book.
My husband is much happier since I met Christian Grey
The Normal Bar's survey results on how reading 50 Shades of Grey has impacted relationships
How much more satisfying are couples' sex lives after reading 50 Shades of Grey? We were curious, so we decided to conduct our own survey to find out.
Into the Grey
Introducing our 50 Shades of Grey Survey
The Normal Bar is a deep dive into what relationships look like now, not just in the United States but across the world. We 're far from the only ones interested in what's going on in marriages and committed relationships, however we live in a media-saturated culture and much of the increase in coverage concerns itself with relationships. Subjects that were formerly taboo are now fair game and insider information about celebrity marriages, reports of spousal misconduct or infidelity, and dating foibles and flaws wash over us in a steady stream.
All of this explosive detail about who did what - and to whom - makes us curious about whether the media's version of what is "normal" matches reality, and whether our decision making may, in fact, be based on false premises. It's not just reality shows and movies that explore every aspect of dating, mating, cheating or uncoupling. Bestselling books do too, and none has had greater impact recently than The New York Times bestselling trilogy 50 Shades of Grey by E.L. James. According to CNN, since March 2012 50 Shades of Grey has sold 20 million copies sold in the United States and 31 million worldwide.